Read about us in the Intelligencer!
Owning and operating a restaurant isn't easy.
But no matter how tough or hectic or stressful things get for James Pharo, owner of the Karlton Café in Quakertown, he's able to step back and put any business hardship into perspective. After all, he says, he's overcome far greater obstacles.
The 27-year-old, formerly of Warrington, has been struggling with drug addiction since his days at Central Bucks South High School.
"The hardest single thing I've ever done is get clean," Pharo said.
Over the years, opioids, crack cocaine and Xanax pills have lead Pharo down a dangerous path he knows he has been lucky to have survived. He's ended up in drug rehabilitation centers four to five times, was put into mandatory treatment after drug-related arrests and overdosed on heroin.
When he first came to Quakertown, it was to move into a recovery house.
"I pretty much had nothing left in my life," he recalled.
He started attending 12-Step Program meetings — a decision he says saved his life — and continues to regularly.
"Without that, I wouldn't be here today," he said. "My track record before this was terrible."
He found work as a dishwasher at the Karlton under the previous owner AJ Buerher, eventually taking on some cooking duties. He bought the business after Buerher died in 2016, at age 40.
"I really just could feel it in my heart — this is what I wanted to do," said Pharo, who after high school earned an associate's degree in business from Bucks County Community College. "I just loved this place. Even aside from owning the business, this is where I got my fresh start at life."
As Pharo works to remake his life, Quakertown is working to give itself a makeover.
"I've seen this town come so far since I moved here in 2014," he said. "I've seen this town start to come alive; more young families are moving into the area."
The borough's revitalization includes proposals to transform the former SEPTA freight station on Front Street into a restaurant and bar and a former trolley barn across the tracks into an open marketplace, akin to Reading Terminal Market in Center City Philadelphia.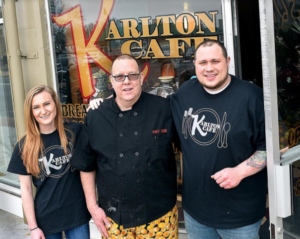 Economic revitalization group Quakertown Alive! says it's already raised $2.7 million for a streetscapes project that would pay for new benches, streetlights and other upgrades to the downtown area.
"I feel like the town is really up and coming," said Pharo's fiancée, Liz Stauffer, who runs the restaurant with him. "I think all of us as business owners just want to see more people coming to the downtown area because for so long it's been (Route) 309 and just 309. You need a wide variety of businesses and shops to bring a crowd and that's finally what we're getting down here."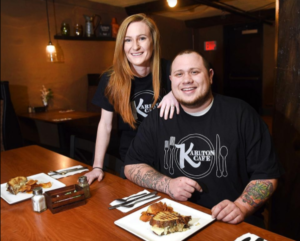 The couple lives just two blocks away, but their commute is set to soon become even shorter. They plan to move into the Quakertown Free Press Building, about 100 feet away from the café.
Since they took over about 13 months ago, Pharo and Stauffer have tried to put their mark on the business. They repainted, redecorated and tweaked the décor.
They stuck with Buerher's vision of a restaurant based on fresh, locally sourced ingredients.
"And we put our own spin on things, which makes it really fun," Stauffer said. "Like right now, we have an Oreo-stuffed French toast."
Previously focusing on just breakfast and lunch service, the café recently opened for dinner, offering a fine dining experience.
"It's not what you're going to get at Applebee's," Stauffer said. "We're sticking to our same fresh, local, made-from-scratch motto, but we're keeping it simple for right now to make sure we put the time, the effort and the love into it so people know we're serious about this."
The couple is leaning on Head Chef Todd Chiaradia, and his 40 years of experience, as they revamp the menu.
"It's been really good," said Chiaradia about working with and mentoring Pharo. "I see the passion in him but he has to get the experience. He just was to walk through it."
The journey hasn't been and won't be an easy one, Pharo acknowledged, but he doesn't plan on hanging up his apron any time soon.
"I just want to be an example as someone that turned their life around," he said. "There is a way out."
http://www.theintell.com/news/20180119/quakertown-restaurant-owner-works-to-rebuild-his-life-as-borough-revitalizes-itself
---