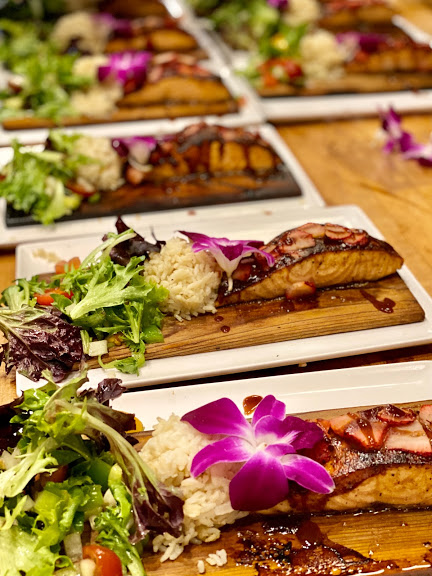 Custom Menus for Weddings, Rehearsals, Bridal & Baby Showers, Corporate Events, Holidays, and Parties! Both on-site and off-site Catering.
Karlton Cafe offers a variety of Catering options that are perfect for any event! Our delicious trays and custom menus will make entertaining easy! We use only the best, locally sourced ingredients. Custom menus are available for all special events! Please send us a message below to set up your free consultation. 
Need a space to host your gathering? Ask us about renting one of our rooms.
We offer a variety of convenient trays for breakfast and lunch gatherings. Please call to place your order 215-538-8353
Breakfast sandwich tray
Egg Sandwiches with Meat & Cheese and Fresh Cut Fruit
Small: $50 (feeds 7-10) 

Large: $95 (feeds 15-20)
Fresh baked goods tray
Croissants, Muffins, and Cookies
Small: $35 (feeds 10-15) 

Large: $75 (feeds 20-30)
Oatmeal breakfast
Oatmeal, brown sugar, Fresh Whole Grain Baguettes, and house-made jam & butter
Small: $35 (feeds 5) 

Large: $75 (feeds 10)
Add a box of coffee $20
Wraps Tray
A variety of wraps: Chicken Ceasar, BLT wrap, and Greek Salad Wrap (v)
Small tray (feeds 6-8) $45

Large tray (feeds 10-14) $80
Grilled Cheese & Soup
Grilled cheese sandwiches, House-made soup, and Fresh-baked croutons
Small tray (feeds 8-10) $55

Large tray (feeds 16-20) $100
Salad & Sandwiches
A variety of our Sandwiches:
Dry Aged Filet, with mushrooms, onions & Cheese | Fish, with lettuce & Tomato | Veggie-wich, with peppers, onions, jalapeno, mushrooms & cheese | Chicken, with peppers, onions & cheese
And your choice of Greek or Ceasar Salad
Small tray (feeds 6-9 people) $50

Large tray (feeds 10-15) $90
Green Salads
Greek Salad… small 40    /   large 80

Caesar Salad… small 40    /   large 80

Apple Walnut Salad… small 50    /   large 100

Asparagus & Quinoa Salad… small 75    /   large 150
Vegetable Sides
Roasted Vegetables feta & balsamic drizzle… small 60   /   large 120

Broccoli Salad… small 60    /   large 120

Old Fashioned Cole Slaw… small 25   /   large 50

Guacamole… small 75   /   large 150
Fresh Fruit Sides
Fresh Cut Seasonal Fruit Salad… small 50   /   large 100

Strawberry Pineapple Salad… small 75   /   large 150

Fruit Kabobs… (Min. 10) 3.50 each
Protein Salads
Pesto Chicken Salad…… small 100   /   large 200

Old Fashion Chicken Salad… small 100   /   large 200

Tuna Salad… small 25    /   large 50
Starch Salads
German Potato Salad… small 35   /   large 70

Blue Cheese Potato Salad… small 25   /  large 50

Old School Potato Salad… small 25   /   large 50

Tri-Colored Pasta Salad… small 25   /   large 50

Traditional Macaroni Salad… small 25   /   large 50